Today's top lawyers are leveraging the web in various ways to promote their firms, make better connections with potential clients, and attract more qualified leads. As the online market continues to evolve, it opens up many digital avenues that provide savvy lawyers with a means of establishing their online presence.  Read more on how today's top law firms using the web to improve their business.  You can find many different techniques on how to promote a lawyer using digital marketing strategies.

Social Media Marketing
Social media marketing is at the top of the list when it comes to digital marketing for lawyers.  Today, billions of people rely on social media platforms to connect with others, establish relationships and to follow their favorite product and service brands.  Popular social media platforms including Facebook, Twitter, LinkedIn and even Instagram are all great options for lawyers who want to expand their reach and connect with prospective clients who are also on social media.  Social media can be used to post relevant information regarding common legal matters—information that prospects will find valuable as they search for a new lawyer to handle their legal affairs.  As a popular forum for building long-term relationships, lawyers can leverage social media marketing campaigns for a tangible return on investment (ROI).
Website Design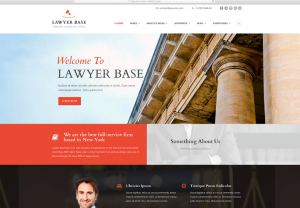 Another cornerstone of a solid online presence is the use of a modern website.  Website design that incorporates the strategic use of the most prominent keywords and phrases clients are searching for will ensure a law firm is easily found on the web.  This process is known as search engine optimization (SEO).  A fully optimized website will ensure a lawyer's website ranks highly when people query on search engines like Google, Bing or Yahoo, for law firms in their local service areas.  In addition to the right keywords, visual appeal as well as websites that provide helpful content are also key elements that help to make a great first impression for first-time website visitors.  Such websites provide value to clients as they search for information that addresses their most pressing legal concerns.  A proactive lawyer will create an optimized site that meets all of these needs and some, for the most value-driven online experience.
Content Marketing
Various types of content including blogs, articles, social media content, graphics, videos, eBooks and white papers are all excellent options for law firms to utilize as they seek new clients online.  While traditional means of reaching new clients still work in many instances, today's clients have learned to tune out these messages and instead seek value from firms who advertise to them before they make a final purchasing decision.  Online content represents a subtler form of advertising that is dissimilar when compared to traditional marketing channels.  Traditional means of marketing like television commercials, direct mailers and billboards no longer have the same impact as they did in year's past.  This is because more and more people rely on the internet to make important life decisions, including finding a new lawyer for their legal needs.  Online content is a new age approach to a common business problem—how to find new clients.
Online Marketing Strategy
While there are many approaches lawyers can take when promoting themselves online, it is important that lawyers formally strategize a best approach for these marketing efforts.  A formal digital marketing strategy should be integrated into the firm's overall marketing plan for the best results.  For instance, a law firm may decide on one particular social media platform to reach more clients.  The firm may also decide between frequent blog posts or regularly scheduled video series on YouTube are betters option for reaching the most qualified leads.  Furthermore, the law firm should include specific objectives for their marketing plan such as a total number of new clients they would like to obtain within a specified time frame.  Such formal goals will keep the law firm on track as they embark on a digital marketing journey.  No, matter the approach, a formal written plan of action will help the law firm get all of their ideas down on paper, for the best and most predictable promotional outcomes.
To learn more about how to promote a lawyer online contact an esteemed group of digital marketing professionals today who can provide insight into online promotions for a law firm, for results and measurable return on investment.