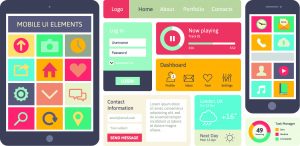 If you're a business owner, you probably have a website. If you don't have one, get one. Because, as a business owner, chances are you won't go a day this year without a customer or potential customer asking, "What's your web address?" If you do have a website, then you know how important it is that you remain relevant and contemporary in your web style and content, and that means keeping up with all the latest web design trends. Nothing will sink your website's page ranking quicker than irrelevant information and tired design. Too often what was popular last year is passé this year. SEO experts are pointing more and more to good web design as a digital marketing strategy in order to enhance content. If you haven't already done so, now's a great time to bring your website into 2014. So, are you ready to optimize your website by seeing what's in store for fall's upcoming design trends?
Flat is fabulous
Because users are getting a little tech-weary these days, simplicity is a buzz word for fall. It was big in 2013, and it's even bigger now. More companies are opting for flat design that forgoes shadows and 3D, and opts for better functionality. This movement toward flat design for fall aligns with the minimalistic over the real-world representation. The idea is to create extreme flatness that strips unnecessary design elements in favor of utility and accessibility.
Code-free and easy
It isn't just users who are opting these days for simplicity. Designers themselves are electing to build websites with less emphasis on code and more attention to productivity and performance. It's all about building a better mousetrap, and code-free design is emerging as just that … the web designer's version of the best approach. As old school goes to the head of the class, what's original is now becoming contemporary. The idea for code-free is simple and straightforward. Functional is taking the place of fancy, as customers want care-free access at their fingertips, and they want it as quickly as possible. That's how users like it, and that's where web designers are headed this fall.
Responsive rocks
As more people are maximizing their use of mobile devices for convenience and communication, web designs must meet these trends and offer better responsiveness. This was one of last year's hottest trends, and it seems to be continuing into fall 2014. In fact, it's probably going to keep getting stronger, since mobile devices aren't going away anytime soon. Websites must now correlate with all the new screen sizes and resolutions out there. Web designers are coming up with new and better methods of making websites suitable for all types of devices. From desktops to laptops, from Smartphones to iPods, the need to access web pages on every type of new device is growing. And so too must the trend toward responsive websites expand with better and more efficient methods of getting there.
Endless love of scrolling
The verdict is in … users hate all those monstrous websites with pages and pages to navigate in order to locate the content they need. This year, web designers are answering the call with techniques that allow for endless scrolling. The fact is that people are just tired of having to click through all those links to access the data they're looking for, and that's why web designers are directing their attention to sites that are better organized and formatted, permitting users to scroll through information with ease. This type of scenario provides for better functionality of a website. Since scrolling through a website seems to be the simpler and quicker way to get around it, designers are coming up with new techniques to allow content to be better accessed using scrolling layouts that let users concentrate on content rather than clicks.
Search engines can be a business owner's friend or foe. If you're not optimizing search engine results with great design that's functional, accessible, and user-friendly, your page is probably getting lost. Along with SEO-friendly content, opting for one or more of these hot web design trends for fall 2014 can catapult your website to the top of page rankings. If you're not combining these two very important web optimization tools, your business may be dying before your eyes. Key words aren't the only important factor in getting your website to the top of the rankings. Top SEO experts recommend maximizing page views with a combination of SEO-friendly content with killer web design.