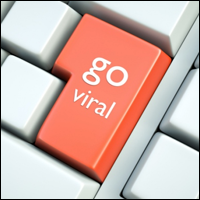 Just a few years ago the internet was like a one-way street where a person got online simply to get information. There was no interaction, and there was no such thing as a share or a like. But as the internet evolved into the Web 2.0 world we know today interaction became the primary element. It is now a super highway running both ways with all sorts of social interactions. This is basically what drives viral marketing. The main idea behind a viral marketing campaign is to initiate social sharing of your message for you. Some experts suggest that a viral campaign will have between 500 and a 1000 times more impact than a campaign that is not viral.
Why is it called "Viral" Marketing?
When we think of a virus, we generally think of flu season. But viral marketing is a strategy which helps pass information on from person to person simulating how a virus is passed until an enormous amount of people have been in contact with it. A viral marketing message has the potential of exponential growth in terms of how many people it is exposed to or how many individuals are influenced by the message. Just like a virus, this strategy will require taking advantage of very rapid multiplication in order for the message to explode out to thousands or millions of individuals.