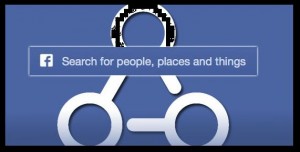 If you have a Facebook fan page, you need to be aware that there is so much more available to you, than what you are using currently. The feature you are about to learn about or learn more about, is called Facebook Graph Search and using it could make marketing on Facebook a whole lot easier than before. Ultimately graph search is a way to search through all the people on Facebook using various pieces of criteria. It first started getting released in 2013 and everyone has this feature enabled now on their Facebook if you asked for it. Facebook graph search works so well considering when you have a profile on Facebook you are allowed to enter in all sorts of information. Just take a look at your own profile page. You have likes, music interests, television shows, movies, books and more. Just think about the possibilities that you can use Facebook graph search for! Sign into your personal Facebook and switch over to your fan page: You may or may not have noticed this before. On your personal account, it's the same old same old. You search for "cooking" and you can see apps and people. But, under your Facebook fan page you search for cooking and you can see a compartmentalized section of Apps, Pages, Groups and People.
It's important to know that you can use Facebook Graph Search for both personal and business fan pages. Here are a few things you can search for as examples of the Facebook Graph Search:
– Photos of my friends who live in Pittsburgh, Pennsylvania
– Current Nike employees who like dogs (yes I am serious!)
– People who enjoy video games
– People who like Playing Video Games
You can almost search for anything your little heart desires and if you cannot find people for what you search for, consider slimming down the question. So instead of "people who enjoy first person shooter video games" which yields zero results, instead go for "People who enjoy video games." Easy as pie. As mentioned above, not everyone has this option yet on their fan pages. You have to actually ask for it and will be put on a waiting list. But, as far as I am aware, every personal page has the Facebook Graph Search.
It should be noted that Facebook Graph Search is not perfect though. It still has its hiccups just like any other "search" option on the Internet. Sometimes you need to weed through the bad results or find a new way to get different results by working things differently. Also, you need to consider that while most people DO fill out their profiles, some people don't even bother to. This could mess up your results, but I think more people have filled out their profiles than have not.
As a marketer or a business you can find pages and groups to join and then post in. This is not really an in your face type of promotion. Its more or less you as a business writing ingenious and sincere posts and then maybe having people visit your business Facebook page. It takes some work, but it's better than spamming people and a more legit route to getting people to your fan page. On the other hand, if you use your personal Facebook page as an extension to your business you can also use Facebook Graph Search to find pages, groups and more importantly; people. You can then add those people to your personal page and sort of lure them in with friendship while also simultaneously asking they check your page out. Surely, there is some way you can find to use Facebook Graph Search to help your business needs.
Just remember that the old system of Facebook search used to just use keywords like football lovers, digital marketing company in NJ, and healthy food. Whereas now you can use full sentences to ask a question. Try it out today and see what you can come up with. Be as silly or weird or serious as you want and see what results you get. Then you can start to plan out a more serious approach to finding what you want and getting what you really need from Facebook graph search.