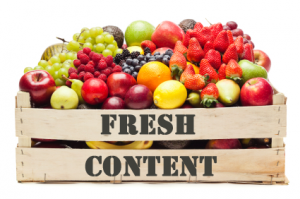 The various social media platforms can be exceptional tools for marketing, this includes the blog. Maintaining a business blog can yield many different benefits for the business if it is handled correctly. Blogging can keep the website from going stale as well as provide a platform to interact with consumers. Content creation is one of the main components of blogging and it must be done regularly in order to have an impact on a search engine optimization campaign. Blogging can be used in conjunction with a website, or it can be maintained off site. Either way, maintaining a blog can help establish the company name across the internet. A business blog can provide a small business a chance to share their expertise in their own niche or industry.
Producing High Quality Content
One of the most important aspects of blogging is that the company gets to produce their own voice. It can be an essential part of developing trust between the business and the client. However, it is very important to note that the content on a blog needs to be high quality and informative. One way to develop this is to make the blog into an education center in order to answer all the questions that your clients may have about your products or services. Although blogging is a marketing tactic, the language should be more informative rather than sales pitchy. Maintain an archive so that readers have plenty more articles to look at for examples and always give a call to action by inviting the readers to learn more. These strategies will help keep them engaged with the site, the blog and ultimately the business.
Blogging Tips
One of the challenges that some businesses can have when maintaining a company blog for a long period of time is coming up with relevant topics without being repetitive. Even if you have written a blog for your company for years there are some ideas that can help keep the blog full of fresh content. Write about any company news events. As an expert in your industry and a company official it is important for you to keep up with current events. Use the blog to inform consumers about various events that occur at the business and provide your personal take on the events and how they are likely to impact the business. You may also write about any new products or huge changes in the industry. Keep an eye on Google and Twitter to stay informed about your particular industry and the changes and trends that may occur.
Blogging for Visitors and Links
There are some key elements which are essential to an SEO campaign. Links, especially generic and relevant ones can help improve the site's ranking in SERPs. Visitors represent the site's traffic and as a general rule the more visitors become engaged with the site or the business, the more likely they are to make a purchase as well as become regular customers. The heart of blogs is about communication between a business and an individual. And a blog satisfies a need on both ends. For the business a blog can help establish them as an expert in their field; and for the visitor is can answer the many different questions that they may have about the product or service being offered.
A business blog can also help generate generic links to the business website. Every blog post should have one link which directs the visitor to look deeper into the site to gain more information. Links are one of the many elements that factor into Google's algorithm when they are ranking sites. Obtaining relevant links is essential to a successful SEO campaign.