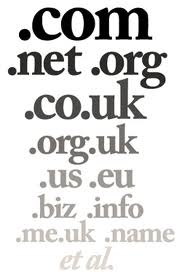 There are a variety of domains to choose from when you are picking what you want for your website. They were all originally created with various meanings while, over time, they have lost this specific classification. You can choose between .com, .org, or thousands of other domains to create a website name that is right for you. Here is some information on a few of the domains you can get and some history concerning them.
Some Domain Rules
Before jumping into the domains themselves, here are some important rules you will need to remember. The name can contain any number, letter, dash, or hyphen. Although they can have dashes and hyphens, the domain name may not begin or end with it. The system is not sensitive to a letters case so your site can be written with any combination of uppercase and lowercase.
The .com Domain
The most widely used domain in the world is .com. There are an uncountable amount of websites with this domain and you have the ability to create more, if you like. The .com was originally created as a TLD, or Top Level Domain, that dealt with commercial organization websites. Any person or entity is allowed to register and make their own .com website. The website created with the domain .com must have at a minimum, three characters that make it up.
The .org Domain
Another popular domain today is .org. This is frequently used with non-profit organizations as the domain for their website. A website in this domain is able to be created by anyone, but it was originally made to specifically be used for organizations.
The .net Domain
The .net domain was originally created to be used for websites, computers, and entities that are part of the Internet's structure.
The .gov Domain
The .gov domain is only available to a member of the U.S. Government. Various members of the government or federal agencies use this domain for their sites. You can expect more reliable information on a website in the domain of .gov.
The .edu Domain
Four-year degree-granting universities and colleges use the .edu domain for their websites.
You can register one of 675 domain extensions that are recognized including .com, .org, and .net. Country codes can be used as well as a domain name. Australia is .au, Europe is .eu, Canada is .ca, and Russia is .ru. Every country has its own  code that its residents can use as a domain.
Fun Facts About Domains
Here are some fun facts about domains from the beginning of 2012. At that time, there were around 135 million domains active. About 100 million sites were .com, 15 million were .net, and about 10 million were .org. In one day, over one hundred thousand new websites were registered. 100 thousand domains also expired. The thee most expensive domains at that time were Insure.com worth 16 million, sex.com worth 14 million, and fund.com at 10 million. The first domain that was ever registered was Symbolics.com in 1985. GoDaddy, one of the leading managers of domains, keeps an eye on 48 million names altogether, creating 1.1 billion dollars in revenue. It was founded in 1997, and by 2011, it was sold for 2.25 billion dollars.
ICANN
ICANN is an organization that has ultimate control over the domain naming system. They make all the policies, decide how they should enforce them, and decide who will get to register the domain. A registry controls the domains and delegates the capability to update and add information to registrars. Registrars interact with the registrants and can store a company's information to the domain. A reseller can be used as well to market the services of the registrar.
Domain name registrars have to pay the registries for each domain name that they register. Companies then charge various amounts to cover costs and to make a profit. Companies offer varying registration rates for anywhere from one to ten years. It is not hard to become a domain name registrar.
No matter what you decide is right, both .com and .org will both work great as the domain of your website. With over 100 million websites using .com as the domain, it is by far the most popular. But your pick for website names is most likely already taken. Find a domain that fits you and your business and reap the rewards of a successful website.