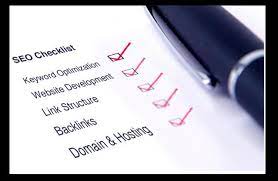 Creating an SEO campaign is more than just keywords and seo, it's so much more than that. In fact, when people are first starting an SEO campaign, they get so overwhelmed and stressed out they choose to hire an SEO Specialist in NJ to do all of the work for them and then step in at the last minute to take over. It's alright if this is what you want to do, but I think as a business or website owner you should still be aware of what goes on behind the scenes, how everything works, and what all of these different terms and acronyms mean. Below, is a checklist of everything you either should be doing, if you are doing this alone, or should be aware of if you are hiring a Top SEO firm NJ to do it for you. It's pretty long winded, but it's all important information.
SEO Analysis:
This is the "whole" of your website. It's an analysis that gives you a better idea on how your website stands up to the rest of the websites online, but it also lets you know how your website rates in an analysis. These analysis's can be done two ways: You can either hire someone to do it for you such as a digital marketing company in NJ or you can do it yourself and find sites online that give you the report — either free or paid. The report contains things such as:
1- Architecture of the website: This includes features such as page speed, valid pages, unbroken links, etc.
2- Content of the site: This has to do with your html tags, keywords, H1 and H2, encoding and more. As well as actual content on the site such as blog posts, about us content, services content, etc.
3- Links: Includes on-site links, backlinks from other websites and other external links.
4- Social Media Presence: This checks to see if you have an extension or widget on each page, especially your blog, to let people share your posts or website.
5- Trust: If you have an ecommerce site it tests the trust of the website, profanity or nudity on the website as well as checks to see if this website spams people.
6- Overall score: Self-explanatory – it adds in all of the above options and comes up with an overall score.
This score can be very helpful, but you can also use the report as a checklist in itself to make sure that you aren't forgetting to do anything on your website that is really important to do. Another important step in analyzing the SEO is to make sure you have a good design, your navigation works well for users, and that you analyze traffic sources or where traffic is coming from.
Social media
I don't care who you are or what you are selling. You could be Bob CEO of Discount Electronics. Frank the founder of Pens R' Us. Jill the self-published author extraordinaire. Everyone has a need and can gain benefits from being on social media platforms. The trick is to know what sites to belong to, when to post, what to post and how much to post. Other than that, any person online who has a website, business, freelance company, or does anything to make money on the Internet should and needs to take advantage of social media. Beyond the traffic benefits you get from social media, it's also a great way to get closer to your customers or potential customers, show them you are a real person. Social media is also a great place to start traffic wise, but if you get people sharing your posts, you sort of get a green light that, that specific post is what you want to continue to shoot for content wise. On the other hand, if you are posting a lot of things but are not getting likes, shares, followers, whatever; then you need to work on your content and what you are posting. When posting to social media, follow these tips:
1- Complete the entire profile including picture, backgrounds, headers, website info and more.
2- Connect your website and blog to social media. WordPress gives you the ability to easily set this up. Mind you this is not the "share" button we talked about above. Instead, this is a button you place on the front page or blog so that people can click the F for Facebook on your site and be directed TO your Social Media profile i.e.; Facebook Fan page.
3- Add social media buttons to your website or blog so people can share your website or blog on their own social media profiles.
4- Share a variety of content; words, videos, pictures, etc.
5- Don't just be memememe. Share other people's posts too. If you really want to get ahead, share a customer's website (ask them if it's okay first).
6- Post accordingly: Facebook Fan page no more than 2 times a day. Twitter no more than 6 posts a day. Google + 3 times a day. Pinterest 1-5 times a day.
7- Be patient!!!
– Local SEO: Beyond just search engine SEO, it's important that you take advantage of local SEO. Sites like Google + allow you to make a local listing for your business. This will help you get local business, while search engines help you get local geo-targeted business and worldwide business. Here are some sites you should make profiles on for localized businesses.
1- Google+
2- Yelp
3- Merchant Circle
4- LinkedIn
5- Bing
6- Yellow Pages
7- White Pages
8- Urban Spoon (great for food specific businesses)
Remember to use local keywords too such as Caterer Florida, SEO firm SEO Firm in NJ , Writer Los Angeles and the like.
Keyword Research:
Some people do not understand the importance of keyword research, but once you start to learn about the benefits and factors, you will want to do it too. Again, you can hire a SEO Specialist in NJ or you can use tools on the Internet to help you. Keyword research will allow you to see the best keywords to use not only for your SEO campaign, but for social sites, local business profiles, blogs, article marketing and more. You can also find quite a few books online about what keyword research is, how to do it, and the biggest benefits.
Content Strategies:

Content is King. You have probably heard this numerous times and it's still true. Quality, well written content is always important on a website for three reasons. First off, for SEO reasons; it will bring good niche targeted visitors to your website via the search engines when people do a search for your keywords. Second off, updating your website will bring search engines to your website which will lead to your website and blogs being indexed, which allow the pages and your website to show up on search engines more often. Thirdly, it will be content your readers can read. No one wants to visit a blog that is only updated once a month. You should be posting every 1-3 days for the best results.
While this was a lot to read, it's really going to give you a heads up and a kick start to your next SEO campaign. Hopefully you follow these tips and add them to your checklist for your next campaign and you see the results and success you want to see. Good luck!